Recommended Company to Buy Organic Goji Juice and Berries:
After many hours of research over 8 years I now recommend buying goji berries and juice from The California Academy of Health:        
Better Business Bureau Accredited, with 0 complaints against in 15 years of business
Rated 9.17 / 10 with over 120 reviews at ResellerRatings.com
Excellent prices, with volume discounts
USDA Certified Organic goji juice and berries, ensuring quality and authenticity.
Kosher
100% Refund Guarantee
15% off for new customers
Free Shipping deals in U.S., & Worldwide Shipping
Other Sources of Goji Juice and Berries
There is a lot of conflicting information on the Internet about buying goji juice, with some companies making one claim, and another company making a totally contradictory one. One company will tell you it is the only company sourcing the berries from Tibet and another will tell you that this is not true (there is absolutely no proof that this matters anyway). One company will tell you that its product has the highest level of polysaccharides, as measured by their special "spectral signature" analysis and another company will tell you they're full of crap (which is no doubt true). Bottom line is there is a lot of hype and a lot of ridiculous prices, but luckily, people are starting to catch on and prices have gone down. If you want to do your own research, you likely won't find much better deals than the companies I've listed above (I regularly update the companies, and right now I only have one), but please let me know if you find a much better deal and if you have good… or bad experiences with particular companies.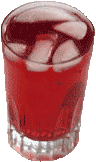 Other Things to Consider in Your Search to Buy Goji Juice or Berries
Another important point is that many places that sell goji juice mix the goji berry juice with other juices and/or preservatives. Some of this juice is cheap juice like apple or grape, while others contain higher value ingredients such as pomegranate. If you're looking for straight up goji juice, it is best that you try to find the most natural goji juice with the highest levels of non-filler juices (such as the CAOH's "Absolute Goji"), or at least higher value juices such as some of the CAOH's other juices containing other superfoods in addition to goji juice.
One thing to note about the juice though: the essential fatty acids that are often mentioned when hyping up the berries, are in the seed of the berry, which doesn't go into the juice. Again, see the Goji Berry Nutrition Information for more information on the subject.
The best way to get the most nutrient dense goji berries while saving money is to grow your own! Learn how in detail by signing up to my Superfood Explorations newsletter below: